Snowboarding is fun. We believe that top quality snowboard instruction should be accessible to everyone, no matter what their background. The mountain doesn't care whether you're a cool kid, shy or outgoing and neither do we! Join us out on the snow to see for yourself where we provide world class and industry defining snowboard instruction, coaching and sports science support.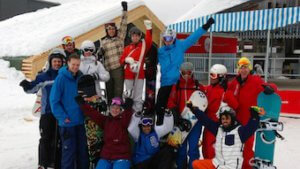 We already operate throughout the UK and in select resorts in France and with your support, we look forward to expanding in to new territories both in Europe and further afield. Our goal is to build a brand that people recognise as the go-to school for superior snowboard tuition, holding a reputation for fun, high quality service by people who love the sport.
Still not convinced? Head over to our Facebook page to see pics from previous camps, take a look at our blog to see what we're interested in, reach out to us by phone or email if you have specific questions, read existing clients' reviews on Trip Advisor or better still, join us on the snow for your very own first hand rock star experience!
Onyx was founded in 2010 by Baden Knifton, following a hugely successful career teaching snowsports throughout the USA, Canada and Europe. Utilising this experience with his academic background in sport science and achievement of the highest international snowboard qualification, Baden set out with the objective of creating something special that combined the best of the best.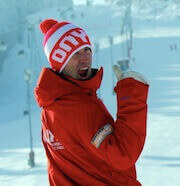 Onyx infuses the latest techniques and knowledge into fun and easy to understand sessions driven by a highly qualified team filled with passion, personality and the desire to share their knowledge. Involved at every level of snowboarding from first timer to international athlete, Onyx also have a strong hand in conducting sport science research into the snowboard field, testing new theories and striving to be the people writing the book, rather than reading it.
In a nut shell the brand stands for consistent levels of quality and service that you can recognise, trust and easily access no matter where you are in the world.
So come see how Onyx can help you enjoy snowboarding even more!
The brief was for something cool, relevant and memorable, so here's how the story goes….
1) Baden (Founder) apart from being named after his Dad and Grandad gets his name thanks to Baden-Powell of Scouting fame.
2) The word Baden (Ba·den) also means to bathe or wash in Swedish and German, along this watery theme Germany also hosts the spa town of Baden-Baden.
3) Baden-Baden is home to one of the world's largest Onyx mines.
4) A quick search of the word Onyx delivered the above image.
And so the name, logo and snowboard school were born.