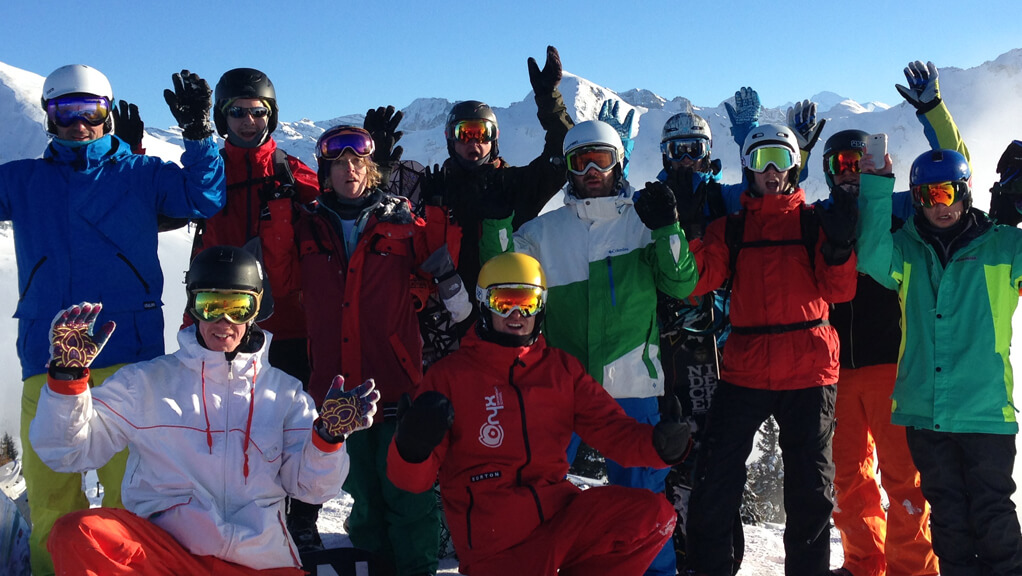 We work hard to make sure you have the best time possible while riding with us. Don't take our word for it though – read what our clients have to say about us on Tripadvisor.

Verified
Do it, do it, do it! Was lucky enough to have a lesson with both Baden and Rob a couple of days ago and I learnt hella lot in a day 🙂 I was given just the right instruction at just the right time to make me progress way beyond what I expected. Highly recommend them both! You will be buzzing I promise!

Verified
🙂 Had a great week learning how to snowboard with Baden. An amazing guy and an even better instructor who pushes you to the limit and builds up your confidence. Thank you so much. Liza, Dasha and Andrey 3000 x

Verified
Awesome week shredding on camp !!! I was a little apprehensive of booking onto my first boarding camp and must have asked 100s of questions. Though turned out to be one of the best boarding holidays I have been on. Chalet was great with everything you could want from a catered chalet. Imagine going on holiday with a chalet full of like minded people that all want to improve their snow boarding. some will now be good friends for life ( already planning next year). All of the instructors were absolutely brilliant. My boarding improved everyday from the small group tuition and just shredding with the full group in the afternoons. Improving riding switch, carving, jumping and loads of cool tricks etc. Advice on board set up / best board for my individual riding style will help alot in the future. 100% will go again.

Verified
You must join a winter camp! As a solo traveller (9 years experience snowboarding) I did my first Onyx winter camp in Morzine/Avoriaz in March 2019. We had 2 instructors for our 12 person group, Baden and Dave. This meant 6-1 tuition for a whole week which is superb and meant they had no problems finding time for any 1-1 tuition you require. They are both incredibly enthusiastic about teaching snowboarding and meeting new people which made for a relaxed atmosphere during the camp. They showed a wealth of snowboarding experience/knowledge and no question was left unanswered. Everyone was pushed outside their comfort zone and can 100% come away with having learnt new skills and confidence on their board. The camp was ran very professionally but also lots of fun, coaches went above and beyond to ensure everyone had the best time. For the price of the camp this was worth every penny. Hope to join another Onyx camp in the future. Thanks for the dope week!

Verified
Epic snowboarding camp in Avoriaz with Onyx Where do I start? Well, this is my second camp with Onyx (attended last year also) and boy did it deliver from start to finish. First day, we went in search of POW and although I don't like hiking it was worth every step for the pow. After that we followed a programme, swapped instructors and had group rides with Baden and Adam. Both excellent coaches I might add and their enthusiasm never waned from start to finish even when Baden had the "man-flu". After that, we had 5 back to back glorious days of sunshine and bluebird days! Am rocking the Panda look proudly as result now 😉 Lots of technical riding to improve your riding skills, posture, carving and general riding. Lots of freestyle too which I love from jumps, boxes, flat land and side hits. Lots of progression made and really happy with the week. Continuous feedback and video feedback also helped you focus and improve. Exhausted but very happy after this camp and am suffering from withdrawal symptoms. Had an excellent group of people and apres was certainly interesting and fun. Will 100% be attending another camp (provided the wife lets me). Massive thank you to Baden, Adam, the Works crew and fellow shredders for making this such an epic week. Can't wait to see the pictures and videos and hopefully shredding with you all again soon.... A+++++

Verified
Summer Camp Les deux Alps I went on my first summer camp with Onyx snowboard camp and my only regret was not booking for two weeks instead of one! Baden who runs the camp is an awesome dude, the camp is structured very professionally will most definitely help improve your freestyle game. Off snow is even better all the coaches and Baden go out of their way to ensure everyone has a great time, there is always something going on or if you want to chill that's cool also. The accommodation was really nice and clean with the option of having your own room . There is also wifi and a back yard trampoline. I went to Onyx as a solo traveller and had the best time everyone was cool and we shredded and partied together all week, I would highly recommend Onyx

Verified
Best Snowboard Lessons Amazing Snowboard School, you'll definitely develop with Onyx! Onyx ensure thy use Level 4+ instructors who know exactly how to explain freestyle techniques to make it work for you. A sign of a real quality Snowboard School. I had my lessons with Baden who is a great coach, full of energy and a good laugh. Baden gave me the confidence to try more freestyle tricks in a few hours than I have over the past 8 years or so. Looking forward to hopefully going on the European camps they offer. Thanks Onyx and thanks Baden Andy

Verified
1:1 Park Freestyle Session I recently had a lesson with Baden at Hemel. I'm new to the park and was nervous about hitting the features. Baden made me feel at ease and made the lesson so much fun that I forgot about my nerves and just got on with it. I went into the lesson just wanting to get on and off features. I was buzzing by the end as I was hitting different features confidently and even ended up progressing beyond what I expected for a newbie to park! When I was being critical of my progress Baden kept me focused and made sure I was having fun, which is what it's all about. He took videos to emphasise that I was doing good and to show how I progressed just from the start of the lesson to the end! What stood out most was Baden's enthusiasm for his teaching and the contagious positivity and excitement when I could "claim" a trick! I think he was more excited than me sometimes lol 😂 Overall I had such a good time sliding sideways and progressing that I'm definitely looking for the next opportunity to have a lesson with Onyx! Highly recommended! And I even came away with cool videos to show everyone 🤣🤙🏼🏂

Verified
Baden is an amazing teacher! Until the day I met Baden on the slopes I wasn't sure I was going to go through with it. The Wednesday before travelling I had removed a cast from my wrist after six weeks - broke it on my previous attempt to snowboard. In the run up of the lessons, Baden was available and patient with all my questions about wrist guards. The day I met him I decided to give it a go and it was amazing! My snowboarding improved loads, he listened to my challenges and thought of different ways to overcome it (coming off ski lifts was a particular one), and overall just made the experience really enjoyable. When it's time for my daughter to start snowboarding, I hope Baden is available to teach her!

Verified
Excellent Coaching, Excellent Holiday! Having done camps with a few different snowboard schools over the years, I cannot recommend Onyx highly enough. I have done two camps with them in the last year and just booked my third! Not only is the coaching top drawer, but Bayden does an excellent job of organising all the other aspects of the holiday. He makes sure you are having a good time both on and off the hill and really delivers the whole package. So if you are hesitating……. don't! You will have an awesome time with Onyx 🙂